I found myself a storyteller….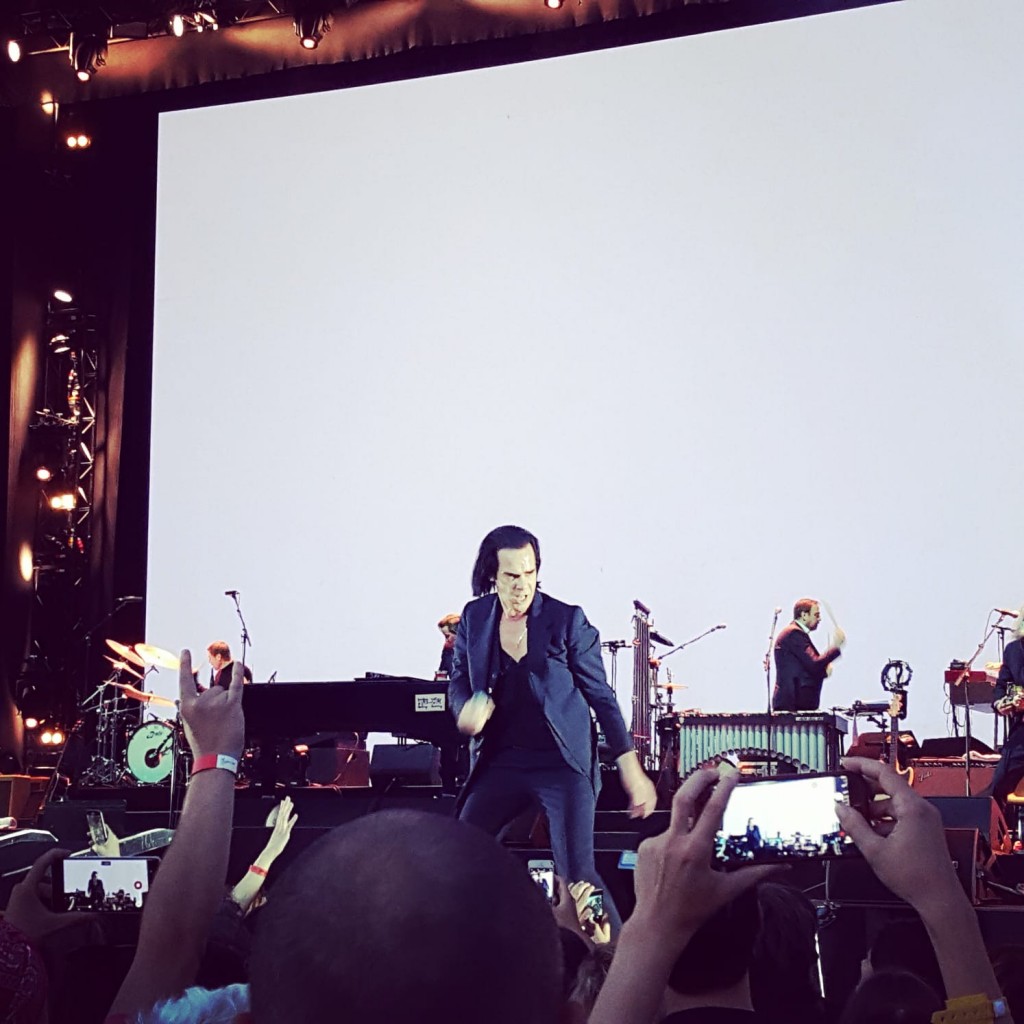 Băi, ce seară fu asta….ce seară de povești fu asta…Nick Cave & The Bad Seeds, live, în București. Pe omul ăsta fie îl îmbrățișezi și te va îmbrățișa înapoi imediat, fie nu îl înțelegi și mergi mai departe. Nu e cale de mijloc.
Povești scandaloase. Crimă. Durere. Condiția umană. Moarte. Meditație. Nebunie. Dragoste. Totul prin și cu dragoste. Nick Cave. Nu cred că există ceva care să îi semene. Nu până acum și, cumva, simt că nici de acum înspre mai departe.
Fiecare piesă e o poveste. De fapt, câte o poveste e sublim aranjată în fiecare piesă. Nu simți nevoia de strofă-refren-strofă-refren. El rupe barierele astea printr-un fel al lui de a folosi cuvintele.
Și apoi Dumnezeu. Red Right Hand e despre Dumnezeu și marionete. Despre El si noi. "You're one microscopic cog/In his catastrophic plan/Designed and directed by/His red right hand."
Agonie și extaz. Plâng. Râd. Zâmbesc continuu. A people person. Oameni. Îi simte, îi vede, îi cheamă lângă el, îi atinge. Iar ei devin (prea) prietenoși imediat. Îl trag. Îl cheamă. Îl strigă. Îl ating continuu.
Pe ultimele trei piese a luat pe scenă, lângă el, printre membrii band-ului, un sfert din Diamond Ring. Dansează cu o tipă la fel de elegant cum dansează ținându-se de gâtul unui tip. Își cântă durerea în fața unui copil care nu știu cât înțelege dar e confortabil cu tot ce i se întâmplă.
Jesus Alone și povestea din spatele ei. E dureros. Sunetele pe care le aud acum în piesa asta taie în carne vie.
Nick Cave e versatil. Îți vorbește cu toată fața, cu ochii, cu mâinile. The Bad Seeds sunt excepționali, nu am crezut că există în mine puterea să aud atâtea sunete și toate să îmi pompeze înăuntru.
One more time with feeling, mister Loverman! Pe data viitoare.